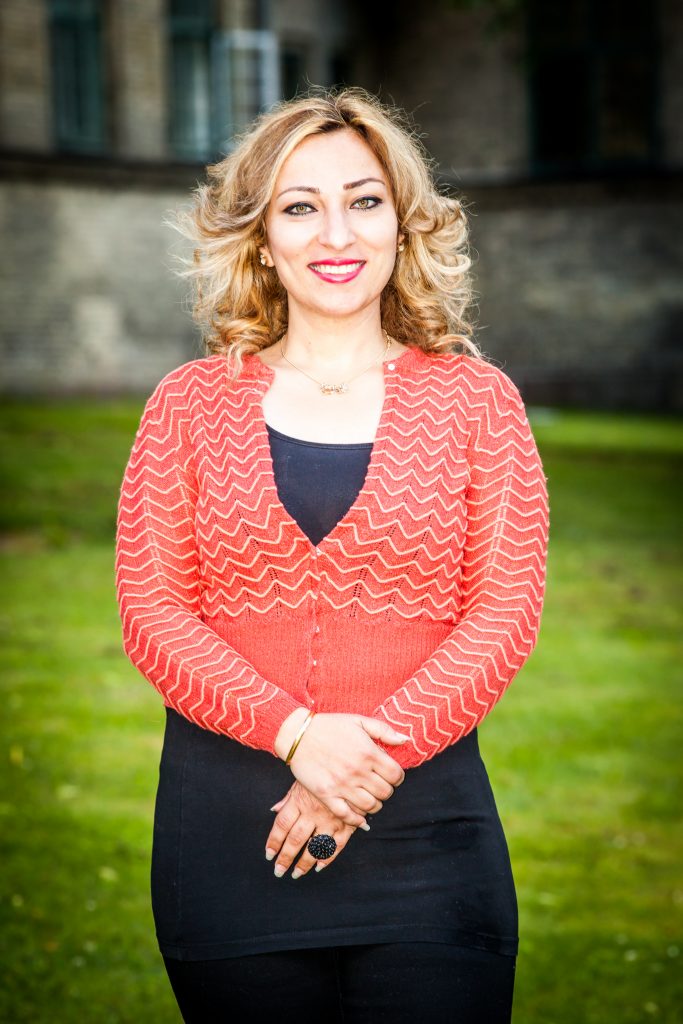 Manal Bashir Tahhan, Damascus, Syria.
I am very glad to have this opportunity to share my story. It is important so that people understand what we Syrian refugees are going through. I am 37 years old, and have three children: Sarah who is 18 years old, Joudy who is 13 years old and Karam who is 8 years old. I have been in Denmark for 1 year and 8 months.
Before the war in Syria I lived a comfortable, happy and peaceful life, with two houses in the countryside near Damascus. When I got married, my husband and I worked very hard to earn money for these houses, as it had always been our dream to own a beautiful home. For 18 years we worked and saved to fulfill our dream. I designed every detail of the rooms, the furniture and the kitchen myself, and was very proud of what we had built.
My husband worked as an engineer and I worked as an English teacher in a private institution. On weekends we would go to restaurants for dinner, or to the park for picnics. My life was perfect, and we were all very happy. It is important for me to tell you about this background, because I want you to understand I was not poor, looking for an opportunity in Denmark. My life was happy and blessed. But after the conflict, everything changed. One night around September 2011, I was at home with my family. My children were sleeping. Suddenly I saw bright lights and heard an explosion. The windows of our house were shattered. My son, Karam, was asleep in his bed when the window glass in his room broke. It is a miracle that he survived. I picked him up and held him. My whole family sat together, waiting for the morning. The next day we could see that the explosion had destroyed our house. It destroyed my dream. Everything we had worked for, for 18 years was gone. We left, and went to Damascus. I found a new job there, working as a secretary, for the ministry of justice. Bit by bit our lives started to fall apart, as our new rent was very high, our car was stolen by the people controlling the checkpoints – the very people who were supposed to help and protect us. I told them we had footage from the CCTV cameras to prove the theft. They got very angry, and said, if I told anyone, they would kill my children – so we had to move again. I left with my children and lived with my parents. My husband went to live with his parents.
One day when I went back to our old houses to see what had happened to them, I was arrested by a Syrian Islamic rebel group. After hours of arguing with them, they let me go – I think because they found out that I worked for the Ministry of Justice. Unfortunately, after two or three weeks, they started demanding information from my job. When I refused, they started to threaten me. At first I was not scared, and didn´t take it seriously. But then they sent a text saying they knew where I lived, where my parents lived. They also said that they had killed a judge, and that I would be next. This scared me very much! I had to leave Syria. Unfortunately I had to leave my children behind. They came later with my husband, after almost drowning, being put in prison. I did not know where they were for 10 days.
Those were the hardest days of my life. My daughter Sarah tells the story, in this exhibition. I took me 26 days to reach Denmark. It was a very dangerous trip, crossing checkpoints, hiding under niqqab, travelling from Damascus to Aleppo, into Turkey. Crossing the sea to Italy on a boat with 300 hundred people on board. It was so crowded, that there was nowhere to sit. We sailed for three hours until we were picked up by a ship with 900 people on board. I was on that ship for 5 days. Finally I reached Denmark, after travelling up through Europe through France and Germany. Of the 900 people, only 50 went to Denmark. I remembered when I was younger, watching a television show, that said that Denmark was a luxury country, where the government helped to take care of you, and that you could live a good life. But until now, I am living in an asylum centre. There are problems applying for asylum in Denmark. My translator made many mistakes with my case, and at first I was only given one year in Denmark, and I could not get family reunification to bring my children to safety. They themselves had to make the dangerous journey, which almost killed them. They are now living in the asylum centre waiting for permission to stay.
Life is not easy in Denmark. Being a refugee is difficult. I am looking for work, and keeping myself busy. Every day I remember my home and family in Syria. I miss my parents. I wish one day to see them again. I would like to do something to serve all of humanity.
I was born in Syria, and I am proud to be Syrian. I hope the war ends. I hope the UN can help stop the war, and help the people. It is not easy for us to cross the ocean and risk our souls, and our family's souls to be safe.